Creative print workshop in the Culture House on Museum Night
08.02.2019
---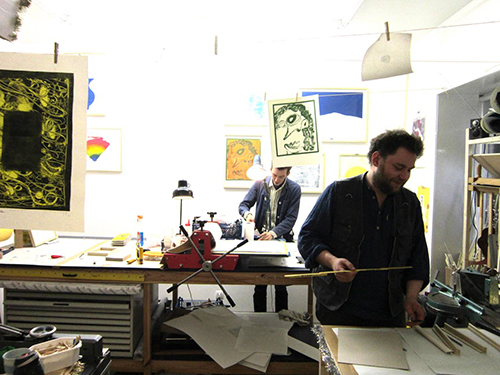 The travelling print workshop Print & Friends is up and working at the Culture House tonight 8 February between 6 and 10 pm. Come and try your hand at making your own arty print. For inspiration you should view the Artist's Books display on the 3rd level, where examples of Icelandic artists' books from the collection of the National and University Library of Iceland are introduced. There are examples of printmaking dating all the way back to the latter part of the 19th century to modern day book art.
All equipment and materials for print making are provided. The artists Leifur Ýmir Eyjólfsson and Sigurður Atli Sigurðsson guide you through different methods and techniques.
Books in the Back invite you to a pop-up shop in the Culture House on Museum Night, 8th of February, between 6 and 10 pm.

Books in the Back is a book space in Reykjavík which focuses on Icelandic and international art & design books from independent publishers with a limited distribution. The aim of the bookshop is to increase visibility of publications by designers and artists made in a limited edition. Among the books for sale are some of the editions on display in the Artis's Books exhibition in the Cultures House.
Back