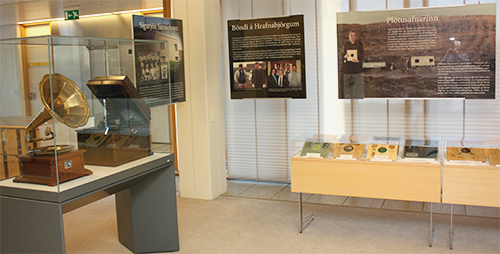 Sigurjón Samúelsson, farmer at Hrafnabjörg in Ísafjarðardjúp, began collecting albums, at first records with Icelandic songs and accordeon records, some of which were released shortly after the turn of the century - and of course they were 78 rpm. He bought the albums in antique shops in Reykjavik, for example in the Grettisgata antique shop and in the basement of the record shop Fálkinn and in other places. The antique shops were to Sigurjón a considerable bonus over the years, and encounters with other collectors also led to record switching.
Once Sigurjón was asked where his affection for records came from. He replied that a phonograph had been on the farm during his childhood, although radio did not come to there until 1944. Several albums existed there, with, among others, the singers Sigurður Skagfield and Hreinn Pálsson and the accordeon musicians Gellin and Borgström, who were great favorites of the collector. Sigurjón's albums were over 7,000, most of them well preserved. Sigurjón collected songs from his 78 rpm albums on CD´s and released them in a limited edition. In addition to the recordings, Sigurjón had a selection of audio devices, ranging from old gramophones to modern devices.
Sigurjón's wish was that the records should be preserved in a collection where the public could use them. Sigurjón's record collection will henceforth be preserved in the National and University Library of Iceland. On that occasion, an exhibition was opened in the National Library on 6 February, where Sigurjón's son, Samúel Sigurjónsson, formally handed his father's collection over to the National and University Library of Iceland.