International communism and Iceland
21.08.2013
---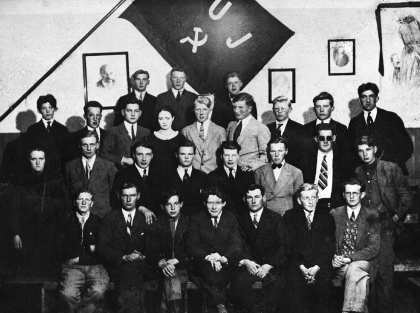 Exhibition and Lectures at the National and University Library of Iceland Friday 23 August 16–18
Friday 23 August 16-18 the exhibition International communism and Iceland, covering the International Communist Movement and its Activities in Iceland, will be opened at the  National and University Library of Iceland. 23 August has been designed, by the European Parliament, as European Day of remembrance for victims of Stalinism and Nazism, but on this day in 1939 Hitler and Stalin made their non-aggression pact, launching the 2nd World War. The exhibition is organised by the Research Centre for Innovation and Economic Growth (RNH) in cooperation with the National and University Library of Iceland, with Professor Hannes H. Gissurarson as the author of the text and Sogumidlun ehf designing the exhibition. On this occasion, historian Dr. Mart Nutt, Member of the Estonian Parliament and of the Supervisory Board of the Estonian Institute of Human Rights, will deliver a paper on "Estonia: a Small Nation Under Foreign Yoke" and Dr. Pawel Ukielski, deputy director of the Warsaw Rising Museum, will give a lecture on the Warsaw Rising in 1944. Iceland's Atlantic Alliance, Vardberg, and the Institute of International Affairs at the University of Iceland are the co-sponsors of the event. It is a part of the project "Europe of the Victims" which RNH and AECR, Alliance of European Conservatives and Reformists, have been jointly organising since 2012.
Further information: http://www.rnh.is/
Photo: Under the portrait of Lenin. Young communists in Siglufjordur in September 1930.
Back