Icelandic Editions of the Bible
The Icelandic Bible Society is the oldest association in Iceland and celebrates its 200th anniversary this year (2015). Its origins are traced to a Scottish missionary, Ebenezer Henderson, who became acquainted with Grímur Thorkelín, a state archivist in Copenhagen. Henderson and his associate, Jon Patterson, motivated Grímur to write a letter in English about Iceland and Icelanders, which appeared in the yearbook of The British and Foreign Bible Society. Subsequently it was agreed that that the association would promote a new edition of the New Testament in Icelandic. Grímur Thorkelín was asked to supervise the printing which was finished in 1807. Henderson offered to travel to Iceland to administer the selling and distribution of the bible. By then he had learned some Icelandic. He left for Iceland on the 5th of July 1814 and stayed for a year and a half. On Sunday the 10th of July a synod was opened at a mass in the cathedral in Reykjavík. The bishop, Geir Vídalín, was unable to attend but Árni Helgason gave a sermon and discussed the foundation and benefits of biblical societies. Henderson was invited to attend the meeting at the synod later in the day and there it was unanimously decided to establish an Icelandic biblical society and a provisional board was elected. A year later the first general meeting was held where these were elected: Bishop Geir Vídalín as president, Árni Helgason as secretary, Ísleifur Einarsson, chief judge, vice president and Sigurður Thorgrímsen, country magistrate, treasurer.
The British and Foreign Bible Society put forth foundation capital and the Danish king promised a yearly grant. The role of the society was from the start to support the translations, publishing, distribution and use of the bible. In the beginning, the society was mostly intended for the clergy but in the year 1945 it was agreed that laymen could also join the society. Later on the arrangement was that four theologians and four laymen would be in the board, presided by the bishop of Iceland. It may be noted that the society is non-denominational, i.e. members of all Christian denominations can become members.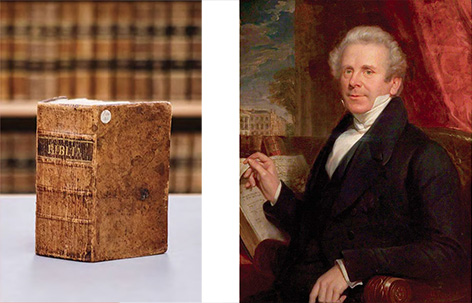 An exhibition of Icelandic bible editions owned by The Icelandic Bible Society was opened in the National and University Library of Iceland on Saturday 26th of September 2015. The exhibition is a joint project of the Library and The Icelandic Bible Society, which on that occasion delivered bibles and minutes to be preserved in the library.
The exhibition is open until May 1st.