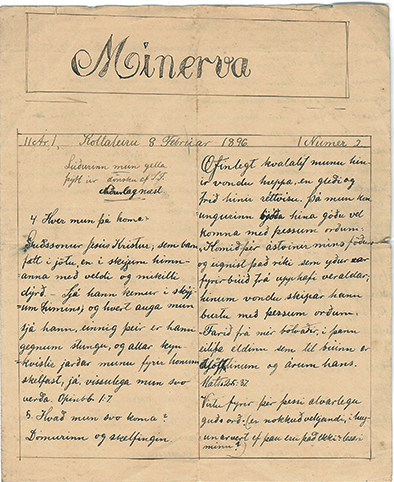 Guðrún Lárusdóttir was born at Valþjófsstaður in the East of Iceland on January 8th 1880. She grew up in Eskifjörður and then Reyðarfjörður. The family moved to Reykjavík in 1899. Guðrún was a writer, member of a parliament, town councilor, representative for the poor and active in many societies. She married Sigurbjörn Ástvaldur Gíslason and together they had 10 children. They lived in the house Ás in the center of Reykjavík, which is today Sólvallagata 23.
Guðrún died in a car accident on August 20th 1938 in Tungufljót in Biskupstungur together with her two youngest daughters. Guðrún was young when she started writing and soon after her confirmation she started publishing a handwritten periodical she called Minerva after the Roman goddess of education that was sent between the farms in the region. The first issue was published in 1895 when she was 15 years old, 2-3 copies each time. Guðrún discontinued the periodical in 1899 when she moved to Reykjavík. She both wrote and translated the content, among other things articles on nature and wildlife.
Three copies of Minerva are preserved at the Manuscript Collection of the National and University Library of Iceland.
In a study by Hrafnkell Lárusson on Icelandic handwritten periodicals, newsletters and magazines around the turn of 1900's is stated that, from preserved copies in Múlasýsla, only two had been published until the turn of the 1900's - one of them is Minerva. Of all the papers in the study, just in one instance a woman was the publisher and editor of the magazine. It was Guðrun with Minerva and it is also the only newspaper with a women's name.