Halla Þórlaug Óskarsdóttir wins The May Star Poetry Prize
09.06.2021
---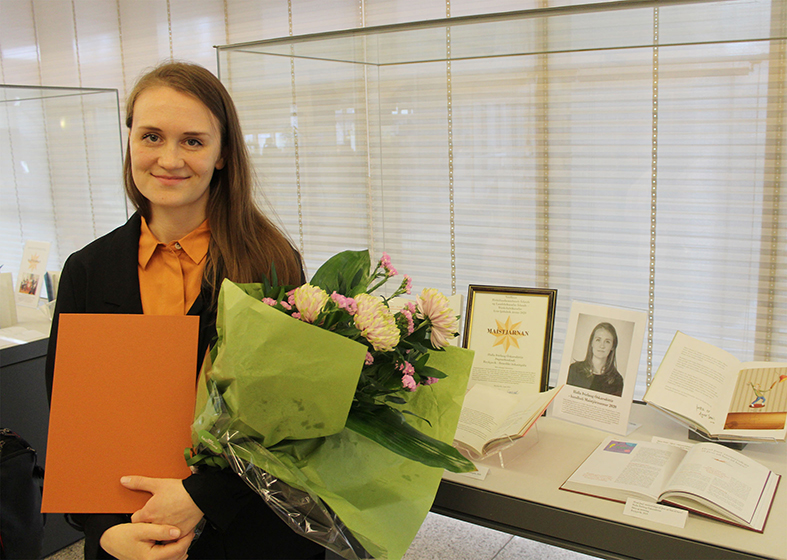 The National and University Library of Iceland in cooperation with The Writers´ Union of Iceland awards a prize for a book of poetry published in the year 2020. The prize, entitled the May Star Poetry Award, was presented for the fifth time at a ceremony at the National Library on 8 June.
The May Star Poetry Award 2020 was awareded to Halla Þórlaug Óskarsdóttir for her book Þagnarbindindi.
The jury's comment on the award book states:
"Þagnarbindindi is an influential poetry story that connects to various notable works from the last decade, both domestic and foreign, in which women write in a courageous and unassuming way about painful and difficult experiences. Here the poet deals with, among other things, grief, loss of mother and the role of mother and manages to paint a multifaceted picture of the world of experience of a young woman who is stepping into adulthood and dealing with shocks and communication difficulties. The result is a memorable book that stands out, thanks to memorable imagery, unusual construction and original texts that frame the boundaries of diary writing, fragmentary narration, poetry and essays."
Halla Þórlaug Óskarsdóttir was born in Reykjavík in 1988. She completed a BA degree in art at the Iceland Academy of the Arts in 2012 and an MA degree in writing at the University of Iceland in 2014. Halla Þórlaug has worked as a programmer at RÚV. For her book Þagnarbindindi Halla received a grant from the Icelandic Literature Center in 2020. Halla Þórlaug has written two plays that were put on stage at the Reykjavík City Theatre and a radio play performed on RÚV.
All published Icelandic poetry books published in 2020 that were submitted to the National and University Library of Iceland were eligible, and the jury received them for discussion. The jury consisted of Sverrir Norland on behalf of the Writers' Union and María Logn Kristínardóttir Ólafsdóttir on behalf of the National Library. Maístjarnan is the only prize in Iceland awarded for a book of poetry published. The prize is intended to draw special attention to the flourishing publication of poetry books in Iceland as well as the importance of Legal deposit to the National and University Library of Iceland and thus preserving them as part of the nation's cultural heritage.
An exhibition of the awarded book and earlier works by the prize winner was opened on this occasion.
Back