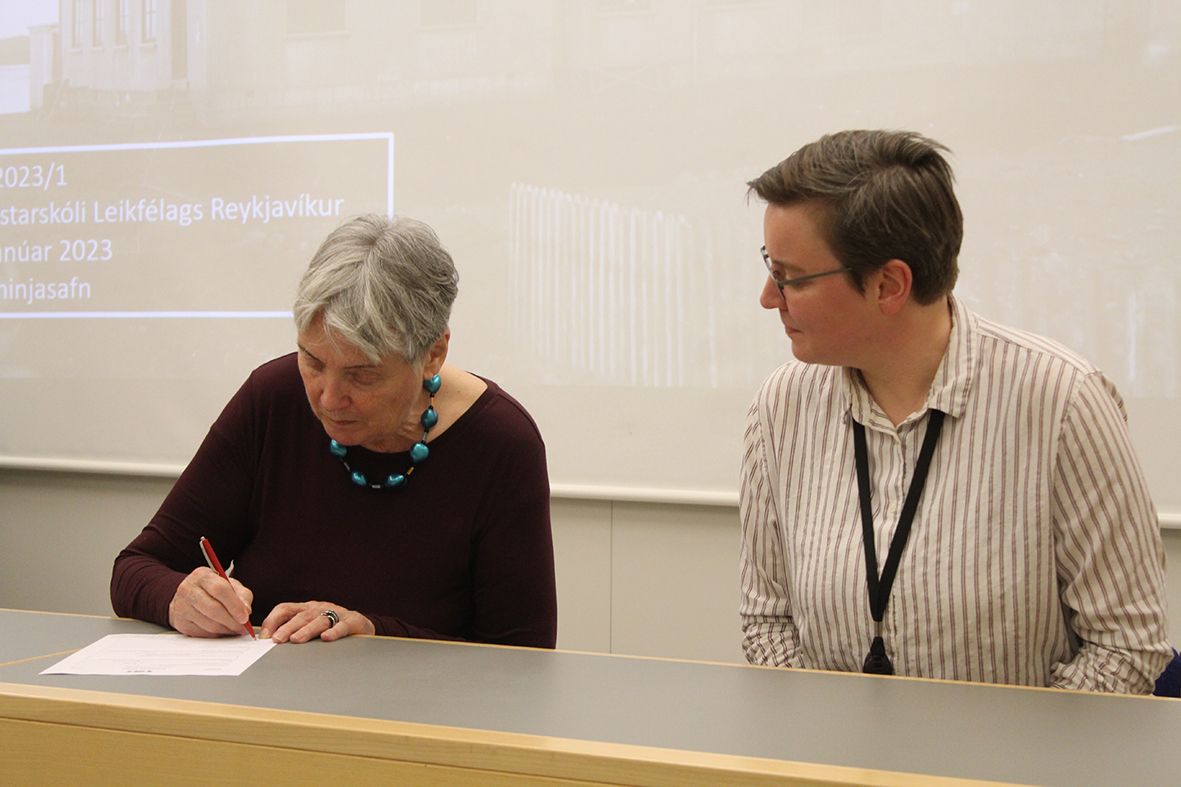 On January 11, 2023, the Theatre Museum received a remarkable gift from former students and teachers at the The Theatre School of the Theatre Company of Reykjavík. This good group of people gave their documents to the Theatre Museum at the National and University library of Iceland. The ceremony took place in the Library on the day of the founding of the Reykjavík Theatre Company, which is currently celebrating its 126th anniversary.
The Theatre School of the Theatre Company of Reykjavík operated for a decade, 1959-1969. Gísli Halldórsson was its first principal, but Sveinn Einarsson took over later and headed the school until the closure of the school. By the end of the sixites, the school was closed to pressure the government to open a state-run drama school.
Eight years of classes completed their studies at the school and for a time both a beginners and junior departments were run. The students included Pétur Einarsson, Nína Björk Árnadóttir, Hákon Waage, Edda Þórarinsdóttir, Þórunn Sigurðardóttir, Jón Hjartarson and Þorsteinn Gunnarsson. The teachers counted among others; Helgi Skúlason, Steindór Hjörleifsson, Helga Bachmann, Jón Sigurbjörnsson and Þórhildur Þorleifsdóttir. The curriculum varied, but included pantomime, theatre, acting, face makeup, vocals, and singing.
The collection contains many interesting things, such as photographs, education, student cards, student certificates and teacher testimonials, but also catalogues, scraps and payment notes for tuition, which were 1000 ISK per month in 1967 or less than 20,000 ISK at current prices.
The archives are currently being registered under the number LMÍ 2023/1.