Long Night against Procrastination, Thursday, March 16, 17:00-22:00
14.03.2017
---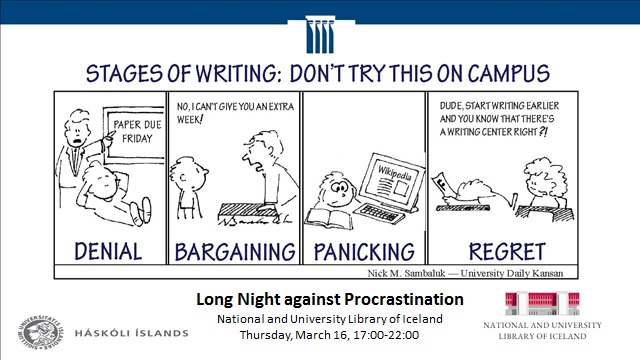 2017 Long Night against Procrastination
National and University Library of Iceland
Thursday, March 16, 17:00-22:00
Work together against procrastination and writer's block!
All University of Iceland students are welcome at the National Library to work on projects, big and small, from class papers to final theses.
Academic motivation!
Expert guidance on all things writing!
Workshops, short classes and one-on-one tutoring!
The goals of the evening are to
give students a chance to work on projects with support and encouragement from peers, teachers and university staff.
draw attention to the worldwide issue of student fear of writing and fight against student attrition.
assist student authors in all stages of the writing process and help them fight against procrastination.
(The idea for the Long Night against Procrastination comes from writing centres in Germany that held the first in 2010, called the Lange Nacht der aufgeschobenen Hausarbeiten.)
Organisers and Presenters
Counselling and Career Centre, Writing Centre of the School of Education, School of Education Library, Writing Centre of the Humanities, and the National and University Library of Iceland
Back