Books and papers delivered from Chinese Cultural Society
30.03.2017
---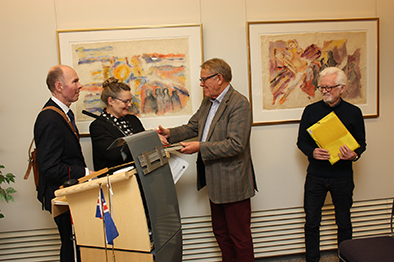 The Icelandic Chinese Cultural Society presented to the library for safekeeping two minutes books, held by the society. One is a minutes book from the beginning of the society's formation 20 October, 1953 until the beginning of the ninth decade. There is also a small book with a few minutes.
Arnþór Helgason chairman and Kristján Jónsson, vice president delivered the society´s books.
Þórhallur Sigurðsson director  also presented some papers from his father, Sigurður Guðmundsson, first vice-chairman of the society. Among those papers is a letter in English the society wrote to Chinese institutions since it´s beginning and until 1962. The society has also planned to deliver to the library computer data on the society´s communications that have taken place in recent years.
Back