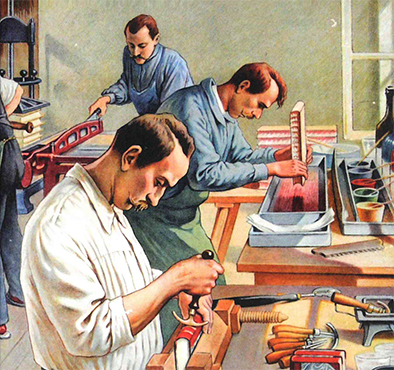 On November 1, the exhibition Nordic bookbinding 2018 was opened was opened in the Library. This exhibition travels to all the Nordic countries every four years.
Nordic countries have a long collaboration in bookbinding. The exhibition is now being held for the fourth time. This time Finland is the host country and is responsible for the entirety. Earlier the organisers have been in Sweden, Iceland and Denmark. Each country organises bookbinding exhibition in their own country. In Iceland, the exhibition will be held in cooperation with the National Library 1.11 - 1.12.2018, after which the exhibition will tour other Nordic countries.
Until 1990, bookbinding competitions were held in various categories. Only professionals were allowed to participate. In 2001, it was agreed that the exhibition will be implemented without the competitive element. Participation is open to all, thus to amateurs as well. Countries take turns in organising the exhibition every four years. Each country plans the project and is responsible for it. The host country has remarkably free hands in shaping the project. The only competitive element in "Nordic Bookbindings" exhibition is that the jury selects 25% of the exhibition material worthy of an honourable mention.
This time there are 51 participants, including four Icelanders, and two of them are honors, Hrefna Ársælsdóttir and Ragnar Gylfi Einarsson. From Iceland also participate in the exhibition Guðlaug Friðriksdóttir and Kristín Þóra Guðbjartsdóttir. At the opening, Ingibjörg Steinunn Sverrisdóttir National Librarian and Georg Páll Skúlason chairman of the bookmakers´ association Grafia, gave speeches.
The exhibition closes December 3rd.