Guidance from the National and University Library of Iceland on the Winter Lights Festival in the Culture House
05.02.2020
---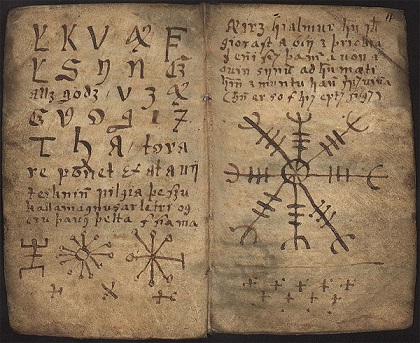 Winter Lights Festival is an annual event that celebrates both the winter world and the growing sun light after a long period of darkness. The program consists of light installations, culture and outdoor activities. The festival provides entertainment for Reykjavík's locals and guests alike. The programme reflects the many faces of Reykjavík´s capital area; with the participation of all the major museums. Museum Night takes place February 7 2020 and is Winter Lights Festival's most popular event. Museums across the capital area open their doors and entertain their guests with happenings such as dance, theatre, lectures, live music, film, literature readings and much more free of charge. All museums are open from 18.00-23.00 PM.
The exhibition Points of View in the Culture House gives visitors the chance to delve into the collections of six different cultural institutions. Points of view is a unique journey through Iceland's visual legacy, offering an innovative guide to a nation's cultural history. The exhibition is a collaboration of the National Museum of Iceland, the National Gallery of Iceland, the Icelandic Museum of Natural History, the National Archives of Iceland, and Árni Magnússon Institute for Icelandic Studies and the National and University Library of Iceland.
Guðrún Laufey Guðmundsdóttir will give guidance to Icelandic magical manuscripts from the 17th century on Friday night 7 February 2020 at the Culture House at 20 PM.
Icelandic magical manuscripts are extremely rare but several magical manuscripts have been preserved from the 18th and the 19th century. Among these manuscripts is a small Book of magic from 1670 that contains Spells to ward off evil forces of this world and the other. Icelandic magical symbols probably derived from runes, combined in intriguing icons, those magical symbols then lived with the nation for centuries as the younger manuscripts attest.
Guðrún Laufey Guðmundsdóttir (b. 1975) holds a MA degree in history from the University of Iceland. She works as an expert in the Manuscript Department of the National and University Library of Iceland.
Back