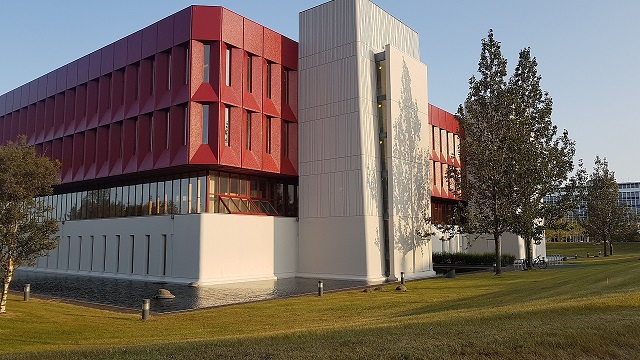 The National and University Library of Iceland, Þjóðarbókhlaðan, will open on May 4 2020, after being closed since March 16, due to ban on assembly, because of the Covid-19.
The library will be open with limitations due to the assembly ban. These include a ban on gatherings of more than 50 people and that a distance of at least two (2) metres be ensured between individuals at all times.
The library is open 9:00 – 17:00 on weekdays. Closed on weekends.
100 guests are allowed in the library building, Þjóðarbókhlaða, at the same time. Seats are available for the following number of guest on each floor.
Fourth floor – 40 guests
Third floor – 40 guests
Second floor – 10 guests
First floor – 10 guests
Guests need to announce their arrival to staff members situated by the entrance when entering Þjóðarbókhlaða.
At this front desk, books can be returned. Material can be ordered by email (utlan@landsbokasafn.is) and picked up there during opening hours, when a confirmation has been received about the material being ready for pick up.
Guests disinfect tables, keyboards and copiers they use, on arrival and after use. Disinfectants and gloves are provided on each floor.
Study rooms are open, but Group study rooms are closed.
Following services are reduced and/or not available:
The Library café and the sitting area close to the Library café on second floor is closed
Group study work – the Group study rooms are not available for booking
It is not possible to go outside and "hold a seat"
It is only possible to be where seats are available, but guests can pick up material on other floors
Library staff reserve the right to close or vacate areas as needed. If guests do not comply with the rules above, they may be asked to leave the building.
The Law Library in Lögberg is open with similar limitations. Information about opening hours is here.
Remember to respect the 2 meter rule!
Please notice the following about the library's services:
The library web chat service is open from 8:15 – 16:00 Mon - Fri on our web landsbokasafn.is.
The library´s main phone number is 525-5600 and email landsbokasafn@landsbokasafn.is.
To contact the service desk
Circulation
Information services

E-resources can be especially useful when searching for sources during this time. All information about access to e-resources (databases, journals and books) subscribed to by the library and/or the University of Iceland can be found at https://landsbokasafn.is/index.php?page=e-resources.
Some materials are in National access but others only available to students and staff at the University of Iceland. Those are accessible with VPN connection to the network of the University.
To contact Icelandic National Collection, Manuscript Department and The Women´s History Archives