Nominations to the May Star Poetry Award 2019
08.05.2020
---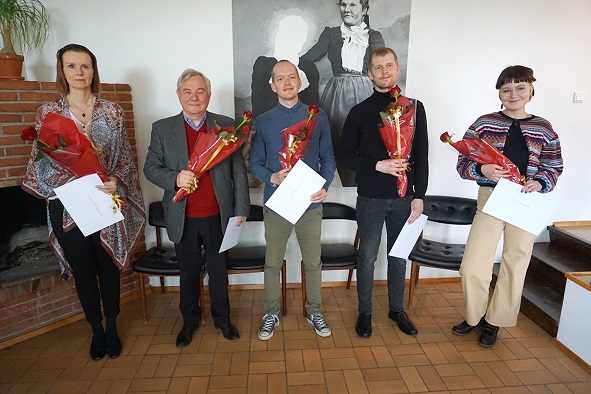 The National and University Library of Iceland in conjuction with the Writers' Union of Iceland, will present the May Star Poetry Award, for the fourth time this May.
The May Star, or Maístjarnan, is the only Icelandic prize awarded to a published book of poetry. All books of poetry from the previous calendar year can be submitted to the library for eligability.
Nominations to the May Star 2019 were presented on May 7 in Gunnar House.
Nominees are:
Jónas Reynir Gunnarsson – Þvottadagur (Páskaeyjan)
Kristín Eiríksdóttir – Kærastinn er rjóður (JPV)
Sigurlín Bjarney Gísladóttir – Undrarýmið (Mál og menning)
Þórður Sævar Jónsson – Vellankatla (Partus)
Þór Stefánsson – Uppreisnir (Oddur)

Nominated books of poetry are on display in the Library's entrance.
Guðrún Steinþórsdóttir appointed by the Writer's Union of Iceland and Arnaldur Sigurðsson by the National and University Library of Iceland, are the judging panel.
On the photograph from left: Sigurlín Bjarney Gísladóttir, Þór Stefánsson, Jónas Reynir Gunnarsson, Þórður Sævar Jónsson og Ingibjörg Hilmarsdóttir f.h. Kristínar Eiríksdóttur
Back