The drawings of Tryggvi Magnússon
14.11.2013
---
The drawings of Tryggvi Magnússon presented to The National and University Library of Iceland.
On November 13th the National Librarian, Ingibjörg Steinunn Sverrisdóttir, and Andrés Úlfur Helguson, a descendant of Tryggvi Magnússon, signed an agreement on the presentation of the drawings of Magnússon to The National and University Library.
Magnússon was one of Iceland´s best known illustrator in the 20th century and drew a.o. the Icelandic Coat of Arms, playing cards portraying the Vikings,  drawings accompanying the Christmas verses of poet Jóhannes úr Kötlum and for a number of years he was a cartoonist for the review Spegillinn. He left behind a great number of drawings which will now be preserved at The National and University Library. The drawings will be kept in appropriate packaging, catalogued and classified.  An exhibition of Magnússon´s drawings will soon be held in the library.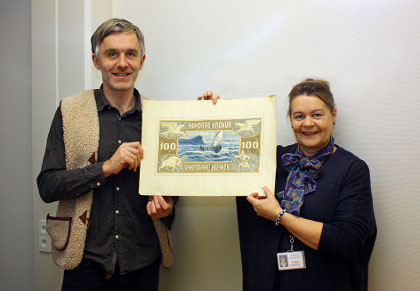 Andrés Úlfur is preparing to write about Tryggvi Magnússon and is looking for information about him and his work. Please contact skjaldarmerkid@gmail.com
Back