Exhibition about Hafsteinn Guðmundsson designer, bookmaker, teacher, printing house director and publisher
Publisher Hafsteinn Guðmundsson has been called "the father of 20th-century printing in Iceland" and the nation's first master of typography and book design. Hafsteinn was 14 years old when he began studying with Guðjón Ó. Guðjónsson at the Westman Islands printing house Vestmannaeyjaprentsmiðjan in autumn 1926. This marked the beginning of a wide-ranging career in printing and book design that spanned some seven decades.
In 1940, when the Icelandic Printers' Association published the book Prentlistin fimm hundruð ára (Five Hundred Years of Printing), Hafsteinn was entrusted with artistic design for the project, garnering high praise for his illustrations. For much of his career Hafsteinn was a printing house director, first at Prentsmiðjan Hólar and then at his own firm, Prenthús Hafsteins Guðmundssonar. In this capacity he designed and oversaw the production of hundreds of printed works. The series of books he designed for publishers Mál og menning and Almenna bókafélagið were considered unusually tasteful.
Hafsteinn was also a prolific publisher. His publishing house, Bókaútgáfan Þjóðsaga, issued a number of Iceland's most treasured literary and cultural works, including numerous collections of folk tales and a series of books on Icelandic cultural history. Typeface, layout, paper, binding – Hafsteinn gave careful consideration to every phase of the work. In recognition of his contribution to his field, Hafsteinn was elected an honorary member of the Icelandic Publishers' Association and was awarded an honorary doctorate by the University of Iceland.
The National and University Library of Iceland is currently hosting a retrospective exhibition featuring Hafsteinn Guðmundsson's major works and an overview of his career. The exhibition, a collaborative effort of the Icelandic Bookmakers' Guild, the Icelandic Publishers' Association, the National and University Library of Iceland, and Hafsteinn's family, will remain open until 30 August 2015.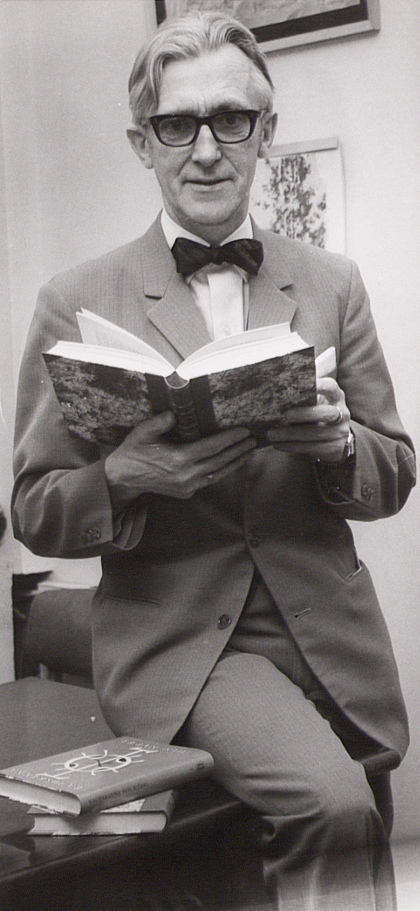 Photo: Hafsteinn Guðmundsson in the eighties with his publication of Icelandic legends collected by Jón Árnason.