a fusion of words and art
31 October was a special day of art and on that occasion an exhibition showing fusion of words and art was opened at the library, specially commemorating 100 years of dadaism and the impact of Dieter Roth on Icelandic book-art.
Dadaism emerged in Switzerland in 1915. Dada was an explosion in art, literature and other arts. World War I was in its zenith and all customary practice was challenged, arbitrary text became a poem, clippings and debris to art.
About 40 years later Swiss artist Dieter Roth came to Iceland. He had grown up with dada and concrete art. He met his Icelandic wife, Sigríður Björnsdóttir, and they started working together in book art. Dieter met Einar Bragi and they founded the publishing house forlag ed that published artists´ books. Some of these artists' books are now exhibited at the library, including the magazine Zeitschrift für alles (Review for everything) (1975-1987), published nine times - all the publications owned by the library except one. Dieter Roth had a major impact on both Icelandic art and poetry and also on printing art.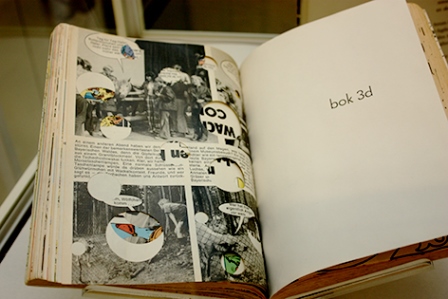 Small publishers grew after 1960 when duplicating became more available and a cheaper option. Poets and painters created their own material and experimented with installation and printing in the spirit of Dadaism and Dieter Roth. Publishing groups and small publishers like Lystræninginn, Medúsa, Bad Taste, Nýhil, Útúrdúr and Meðgönguljóð have published book art and poetry books containing experiments with a fusion of words and visual arts.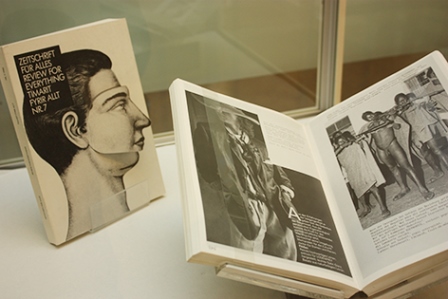 The exhibition is in cooperation with the Dagur myndlistar (Day of Art), http://dagurmyndlistar.is/2015/10/25/landsbokasafn-islands-haskolabokasafn/
Management of the exhibition: Vigdís Rún Jónsdóttir, student in art history at the University of Iceland, Áslaug Agnarsdóttir, Ólafur J. Engilbertsson and Kim Farah Giuliani.
The exhibition will be open until 6 of December.