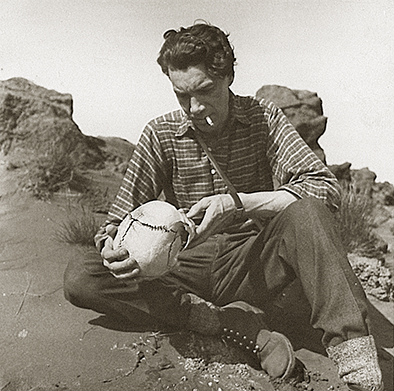 On Friday the 22nd of April an exhibition of Snorri Hjartarson´s poetry was opened in the library. In the exhibition his poetic gems are highlighted. Guests of the library are met by his poems in the corridors and they can also sit comfortably with a tablet in the exhibition area and listen to the poems read by Gunnar Þorsteinsson, translator and broadcaster.
Snorri Hjartarson was born on April 22nd 1906 at Hvanneyri in Borgarfjörður, the son of Hjörtur Snorrason, school principal, and Ragnheiður Torfadóttir, but was raised from the age of nine at Arnarholt in Stafholtstungur. He studied at Flensborg school in Hafnarfjörður and at the Reykjavik Gymnasium, but had to quit his studies because of bad health. He went abroad to seek medical help and in 1930 he studied art in Copenhagen and 1931-32 in Oslo. During those years his first five poems were published in the journals Eimreiðin and Iðunn. At this time he was predominantly engaged in painting but gradually turned to writing.
Snorri´s books of poetry were four in total: Kvæði [Poems] (1944), Á Gnitaheiði [On Gnitaheidi] (1952), Lauf og stjörnur [Leaves and Stars] (1966) and Hauströkkrið yfir mér [Twilight above me] (1979). In 1981 he received the Nordic  Council Literature Prize for the last one. In 1986 he was awarded an honorary doctorate by the Faculty of Humanities at the University of Iceland, one of very few writers to receive this honour. Snorri Hjartarson died in Reykjavik on December 27th,1986, just over 80 years of age.
The exhibition is set up at the initiative of Ljóðvegir and The National and University Library of Iceland. The publishing company Forlagið, Iceland Oil Ltd., Reykjavík UNESCO City of Literature, The Writers´ Union of Iceland, RUV, The National Bank´s Community Fund, The Vigdís Finnbogadóttir Institute of Foreign Languages and The Ministry of Education supported the project. The exhibition will be open until the 30th of October 2016.
Brochure with English summary (PDF - 1Mb)