Great Auk (Pinguinus impennis) - Special exhibition in the Cultural House
05.07.2016
---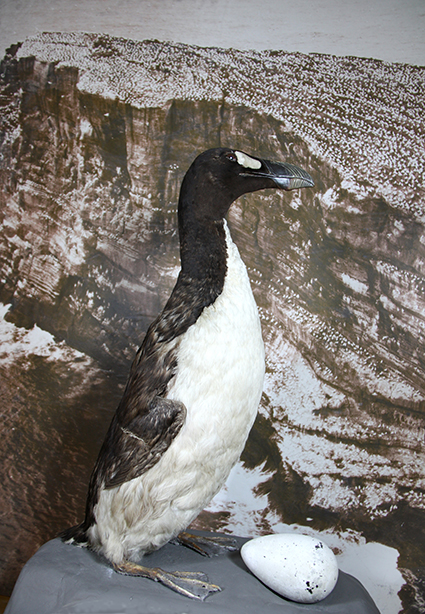 On the 16th of June a special exhibition on the Great Auk was opened in the Cultural House at Hverfisgata. In its special exhibition area there are displays sponsored by the six institutions responsible for the exhibition Point of view – a journey through Icelandic imagery, displayed in turns.
The exhibition is a joint project by The Icelandic Museum of Natural History and the artist Ólöf Nordal in cooperation with The National and University Library and The Icelandic Institute of Natural History. The exhibition is called Great Auk † Pinguinus impennis  Extinction of a species – the last samples. 
The Great Auk is an extinct species and it is believed that the remaining two on the globe were killed in Eldey by Reykjanes in June 1844. The birds were sent to the University in Copenhagen where their organs and intestines are still kept in 11 glass jars in The Natural History Museum of Denmark. It is not known where the birds´ skins are located.
In the exhibition one can see a stuffed Great Auk which was bought in 1971, a drawing of Geirfuglasker from around 1770, which shows the hunting of a Great Auk and other auks, and new works by Ólöf Nordal: Eleven photographs of the organs and intestines of the two Great Auks as they are kept in The Natural History Museum of Denmark, a narration of the last killings of the birds in Eldey and a video showing the hunting of birds in The Westman Islands.
Further information is available on the website of The Icelandic Museum of Natural History:
http://nmsi.is/
Back