Board and Organizational Chart
The National Librarian
Ingibjörg Steinunn Sverrisdóttir Master in Public Administration (2006), MA in Library- and Information Science (1996).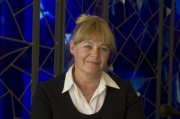 Board
Chair: Fanný Gunnarsdóttir Vice Chair: Guðmundur Hálfdánarson, University of Iceland Elín Soffía Ólafsdóttir, University of Iceland Magnús Már Halldórsson, Cooperative Committee of the University level Guðmundur Jónsson, Science and Technology Policy Council Ingibjörg Rögnvaldsdóttir, Information - the Icelandic Library and Information Science Association
Executive Board
The National Librarian and the directors of the Library's sections form the Executive Board. The Board is a forum for the management of the Library to discuss issues related to the operations and decisions that need to be taken.
Organizational Chart